A Beachy Weekend at Pesta Santai Muara 2017
A Beachy Weekend at Pesta Santai Muara 2017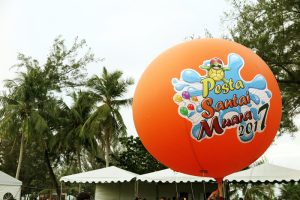 It was a joyful and jubilant weekend spent at Muara Beach, as crowds of people flocked to the beach for the 'Pesta Santai Muara 2017' held from 11 to 12 November. Held in conjunction with the Golden Jubilee Celebration of His Majesty's Accession to the Throne, the festival was organized by the Kampung Masjid Lama, Pekan Muara, Sabun and Pelumpong Consultative Council with cooperation of the Ministry of Primary Resources and Tourism and the Ministry of Home Affairs, with support from Cityneon Brunei.
Spread across the vast green grounds of Muara Beach were vendors selling various local products, and fun games and activities for children. In reminding the public of the collective social responsibility of keeping our beaches and environment clean, there were also cleaning campaigns scattered throughout the two days to ensure that all litter was disposed of properly.
The weekend-long festival also included the 'Pesta Santai Muara Night Ride 2017', a Tug of War, and the 'Pesta Santai Muara FatBike Fun Race'.
And if those weren't enough to tickle the crowd's fancy, the expansive area of Muara Beach with its large children's playground, winding paths and scenic beach, was enough to keep one's weekend entertained.
The Pesta Santai Muara 2017 event was launched on the morning of 11 November by the guest of honour, Yang Berhormat Pehin Orang Kaya Seri Kerna Dato Seri Setia (Dr) Haji Awang Abu Bakar bin Haji Apong, the Minister of Home Affairs, who took part in the first beach clean-up. Also in attendance were government officials from the Ministry of Home Affairs and the Ministry of Primary Resources and Tourism.