Education & Fun Come Together in the Sumbiling Eco Village School Camp
Education & Fun Come Together in the Sumbiling Eco Village School Camp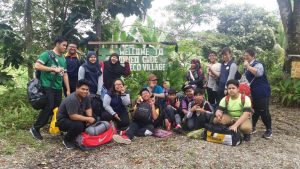 Give your kids an experience truly worth experiencing by taking part in a school camp hosted by Sumbiling Eco Village.
As a part of the nationwide Brunei December Festival organised by the Brunei Tourism Board, the school camp takes place throughout the month of December and invited students aged 15 and above to engage in an interactive nature learning experience in the forests of Temburong.
A group of 11 students from Sekolah Menengah Yayasan SHHB had an overnight group camp last week in the company of seven teachers, taking part in a holiday educational retreat in their own country. From being involved in the preparation of their own lunch (bamboo chicken and glutionous rice) to a guided water trek along the Mutong River, the students were fully immersed in the culture and lifestyle in Temburong. On the water trek, the students learned about the local flora from the local villager guide, who helpfully pointed out the plants and its uses.
The evening was spent enjoying a "Kampong" themed dinner consisting of mouth-watering traditional Malay cuisine, before walking it off with a nigh walk in the nearby jungle to spot nocturnal creatures in their habitat.
On the second day, students did some rock painting and learning how to use a blowpipe – a weapon used in traditional hunting. The rest of the day was spent in relaxation – swimming in the river facing the Sumbiling Eco Village.
The overnight camp was met with much satisfaction among the students. Mohammad Hanan Kadir joined the camp to get to know his peers outside of school, and enjoyed the teamwork and companionship of the overnight trip. As a member of the police cadet, he also enjoyed jungle trekking and found that the experiences he gained through trekking benefitted him greatly. On the other hand, Adam was keen on learning about the plants and their properties during the trek, and learned a lot about trust and communication among his peers and teachers.
Sumbiling Eco Village offers day or overnight packages for their school camp, and the next camp session will be held between the dates of 13 to 30 December. A minimum of five students are required per group and to avoid disappointment, do group bookings in advance. Prices range from BND65 to BND95 for day trips and overnight packages respectively.
For inquiries, call their sales hotline 673-7187138 or 2426923 (during office hours) or drop them a message on their Instagram or Facebook page. 
---
The Brunei December Festival 2017 is organised by the Brunei Tourism Board with the cooperation of various ministries, private sectors and stakeholders with aims to increase the number of tourists visiting Brunei by hosting events aimed at attracting both local and international visitors.
Sumbiling Eco Village is home to the Iban community and aims to achieve sustainability by preserving and maintain the environment by utilizing existing resources. It has hosted several events from school camps to the Borneo 4×4, and has received international recognition and accolades.