In Theaters in December
In Theaters in December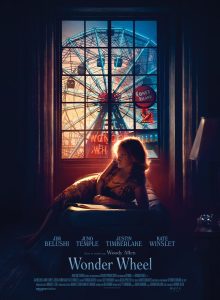 Wonder Wheel (Dec 1)
Starring Jim Belushi, Kate Winslet, Justin Timberlake and Juno Temple
Written and directed by Woody Allen, the film tells the story of four characters: Ginny (Kate Winslet) is a former actress now waitress; Ginny's husband Humpty (Jim Belushi) is a carousel operator; Mickey (Justin Timberlake) is a handsome lifeguard with big dreams; and Carolina (Juno Temple) is Humpty's long-estranged daughter who is hiding from gangsters in her father's apartment. Their lives come together in a tale of passion, violence and betrayal against a picturesque backdrop of 1950's Coney Island.
---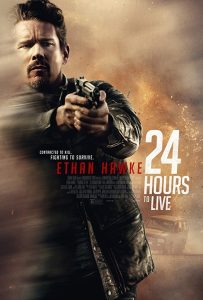 24 Hours to Live (Dec 1)
Starring Ethan Hawke and Rutger Hauer
CIA Agent and assassin Travis Conrad (Ethan Hawke) has just died, but a new regenerative surgery gives him a second shot at life for one last mission that will end in exactly 24 hours. If he doesn't complete his mission before then, he will die once again, but not before he wreaks havoc on those who wronged him.
---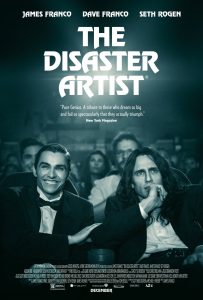 The Disaster Artist (Dec 1)
Starring James Franco, Dave Franco, Zac Efron, Josh Hutcherson, Kate Upton, Ari Graynor, Jacki Weaver and Sharon Stone
A behind-the-scenes look at the making of 'The Room' – a universally panned movie written, directed and starring Tommy Wiseau (James Franco) that becomes a cult classic.
---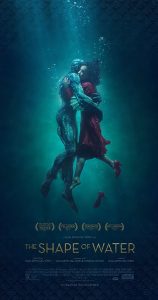 The Shape of Water (Dec 8)
Starring Sally Hawkins, Richard Jenkins, Michael Shannon, Octavia Spencer, Doug Jones and Michael Stuhlbarg
Written and directed by master storyteller Guillermo del Toro comes an other-worldly fairy tale about the mute and lonely Elisa (Sally Hawkins), a cleaning lady for a high-security government in 1960's Cold War era America, whose life changes forever when she discovers a secret classified experiment: a mysterious, scaled creature from South America that lives in a water tank.
---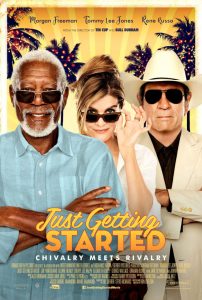 Just Getting Started (Dec 8)
Starring Tommy Lee Jones, Morgan Freeman, Rene Russo, Joe Pantoliano and Glenne Headley
Ex- FBI Agent Leo (Tommy Lee Jones) and Duke (Morgan Freeman), ex-mob lawyer in the Witness Protection Programme, find themselves in competition when they realise they're both interested in the same woman. But when Duke's past suddenly catches up with him, the two must put aside their petty rivalry to fend off a mob hit.
---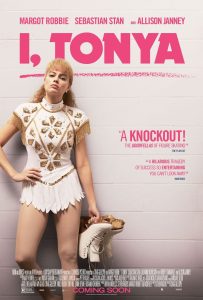 I, Tonya (Dec 8)
Starring Margot Robbie, Sebastian Stan and Allison Janney
A biopic that focuses on competitive ice skater Tonya Harding (Margot Robbie) and how she rose through the ranks of the US Figure Skating Championships, and finds herself in fierce rivalry with another US ice skater, Nancy Kerrigan. Her future in the sport is called into question when her ex-husband comes to intervene, and when she hires an assassin to break Kerrigan's leg.
---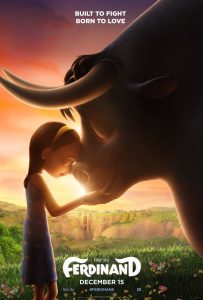 Ferdinand (Dec 15)
Voiced by John Cena, Kate McKinnon, Gina Rodriguez, Bobby Cannavale, David Tennant and Anthony Anderson Giant and big-hearted Ferdinand is a bull that has been mistaken for a dangerous beast, and is captured and taken away from his home and family. Determined to break free from his captors and return home, he teams up with a group of misfits for the ultimate adventure.
---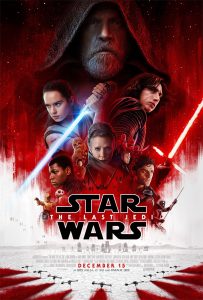 Star Wars: The Last Jedi (Dec 15)
Starring Mark Hamill, Daisy Ridley, Carrie Fisher, Adam Driver, Oscar Isaac and John Boyega
Picking up from the previous instalment, Rey (Daisy Ridley) develops her powers under the tutelage of Luke Skywalker (Mark Hamill). Together, they go on an adventure with Leia (Carrie Fisher), Poe (Oscar Isaac) and Finn (John Boyega) that will unlock the secrets of her past and the mysteries of the Force while the Resistance prepares to battle the First Order.
---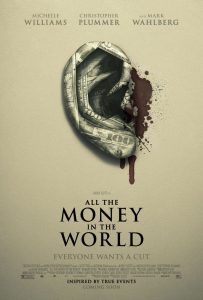 All the Money in the World (Dec 22)
Starring Michelle Williams, Christopher Plummer and Mark Wahlberg
Directed by Ridley Scott and based on the book by John Pearson, this film follows the kidnapping of teenaged John Paul Getty III (Charlie Plummer) in Rome of 1973, and his desperate and devoted mother Gail (Michelle Williams), who is trying to convince her son's billionaire oil magnate grandfather, the notoriously miserly Jean Paul Getty (Christopher Plummer) to pay the ransom. When his grandfather refuses her, Gail and Getty's security man Fletcher (Mark Wahlberg) become unlikely allies in a race against time to save her son's life, ultimately revealing the lasting value of love over money.
---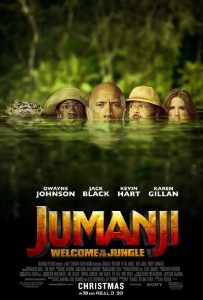 Jumanji: Welcome to the Jungle (Dec 22)
Starring Dwayne Johnson, Karen Gillan, Jack Black, Kevin Hart and Nick Jonas
20 years after the board game upended Alan Parrish's life, Jumanji returns as an old video game console discovered by four high school students. Curious, the teenagers choose their adult avatars and start playing – only to learn that playing Jumanji isn't enough, you need to survive it. In order to return to the real world, they must beat the game by going on the most dangerous adventure of their lives – or be stuck in the game forever.
---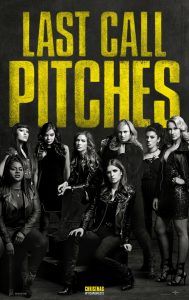 Pitch Perfect 3 (Dec 22)
Starring Anna Kendrick, Rebel Wilson, Hailee Steinfeld, Brittany Snow and Ruby Rose
Just when you thought the acapella life was over for the Bellas, they return for one final instalment of the famous movie that made cup playing trendy and acapella groups cool. This time, after winning the world championship, the Bellas have moved on to real life – only to discover that job prospects are slim when it comes to pursuing acapella as a career. But when they get the chance to reunite for an overseas tour, our favourite group of acapella nerds come together for one last time to make some music (with their mouths).
---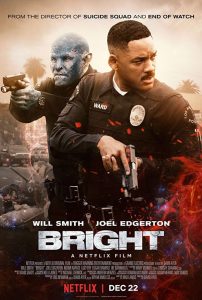 Bright (Dec 22)
Starring Will Smith, Joel Edgerton and Noomi Rapace
A Netflix Original Film, Will Smith stars as Daryl Ward, a human police officer in an alternate present day when humans, orcs, elves and fairies co-exist. On a routine night patrol with his partner, a hulking orc named Nick (Joel Edgerton), they stumble upon a young female elf and a relic which – in the wrong hands – could destroy everything they know. Now they must learn to put aside their differences and fight together, as well as the onslaught of enemies that are coming for them.
---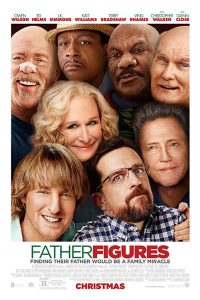 Father Figures (Dec 22)
Starring Owen Wilson, J.K. Simmons, Ed Helms, Ving Rhames, Glenne Close, Bill Irwin and Katt Williams
Kyle (Owen Wilson) and Peter (Ed Helms) are fraternal twin brothers who just discovered that their eccentric mother has been lying to them about their dead father since they were young. On a mission to find their father, the duo hit the road, and in the process they learn a little bit more about their mother than they wanted to know!
---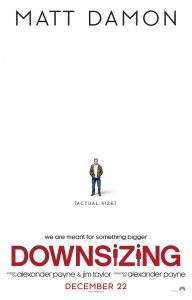 Downsizing (Dec 22)
Starring Matt Damon, Christoph Waltz, Hong Chau and Kristen Wiig
This is a movie about saving the human race, and thinking small, and scientists have discovered how to shrink humans to five inches tall as a solution to an increasingly over-populated Earth. Alexander Payne directs Matt Damon in this movie about a kindly occupational therapist and his wife who have made a decision to abandon their stressful lives and move to a new downsized community, literally, but the decision to go small doesn't come without life-altering complications – and life-changing adventures.
---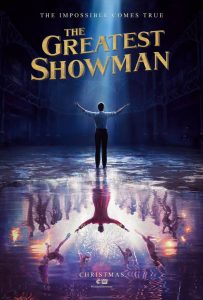 The Greatest Showman (Dec 25)
Starring Hugh Jackman, Michelle Williams, Rebecca Ferguson, Zac Efron and Zendaya
Inspired by the imagination of the legendary P.T. Barnum, Hugh Jackman stars in this bold and original musical that celebrates the birth of show business and tells the story of a visionary who came from nothing to create a spectacle that becomes a worldwide sensation.
---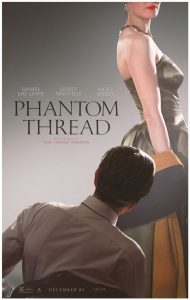 Phantom Thread (Dec 25)
Starring Daniel Day-Lewis, Lesley Manville and Vicky Krieps
In this latest film by Paul Thomas Anderson, renowned dressmaker Reynolds Woodcock (Daniel Day-Lewis) and his sister Cyril (Lesley Manville) are at the center of British fashion in 1950's glamorous post-war London, and the siblings are known for dressing royalty, debutantes, heiresses and movies stars with their brand: The House of Woodcock. Reynolds goes through a string of temporary companionship with women who flit and out of his life, but becomes obsessed with a strong-willed woman named Alma (Vicky Krieps), who soon becomes his muse and lover, and he finds his usually organised life upended by love.
---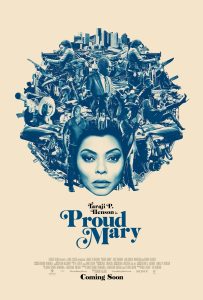 Proud Mary (Dec 31)
Starring Taraji P. Henson, Neal McDonough and Danny Glover
Mary (Taraji P. Henson) is a hitwoman whose life turns around when she meets a young boy when a professional hit goes awry, sparking her maternal instincts.