In Theaters in June
In Theaters in June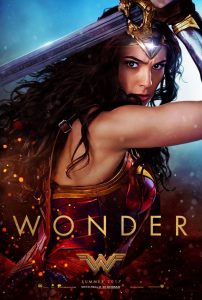 Wonder Woman (June 2)
Starring Gal Gadot, Chris Pine and Robin Wright
Diana was raised on a sheltered island paradise, as a princess of the Amazons, trained to be an unconquerable warrior. Her journey toward becoming Wonder Woman begins when she meets an American pilot awash at their shore, who tells her about the wars that rage in the outside world. Convinced that she can stop the threat, Diana leaves her island paradise to fight alongside men to put an end to the war – and in doing so, discovers her full powers and her true destiny.
---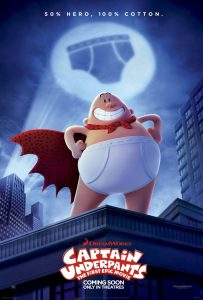 Captain Underpants: The First Epic Movie (June 2)
Starring Thomas Middleditch, Jordan Peele, Nick Kroll, Kevin Hart and Ed Helms
George and Harold are two mischievous pranksters who spend hours in a tree house creating comic books with their overly active imagination. When the two inseparable friends are threatened to be separated into different classes by their mean elementary school principal, the boys accidentally hypnotize him and turn him into their comic book creation – the kind-hearted, overly enthusiastic and not very bright superhero named Captain Underpants.
---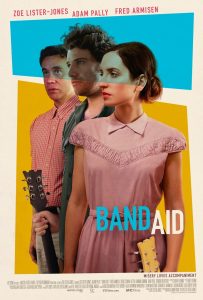 Band Aid (June 2)
Starring Zoe Lister-Jones, Adam Pally and Frank Armisen
A movie written and directed by Zoe Lister-Jones, this is about a couple who can't stop fighting. Advised by their therapist to work through their difficulties unconventionally, the two remember their shared love of music and decide to turn their fights into songs. With the help of their neighbour, they start a band in a last-ditch attempt to save their marriage.
---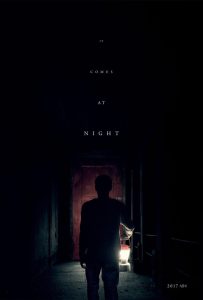 It Comes At Night (June 9)
Starring Joel Edgerton, Riley Keough, Christopher Abbott and Carmen Ejogo
Secure in a desolated home as an unnatural threat terrorizes the world, Paul has created an orderly domestic life for himself and his isolated family. But their safe recluse from the world is put to the test at the arrival of a desperate young family seeking refuge. A living agreement is forged between the two families, both starting off with the best of intentions, however as the outside horrors loom ever closer, the two families grow paranoid, and Paul learns that he will protect his family at whatever cost.
---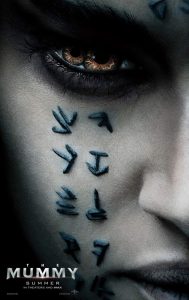 The Mummy (June 9)
Starring Tom Cruise and Sofia Boutella
Universal Studio's reboot of the horror classic of the same name, Tom Cruise stars as Nick Morton, a plunderer who excavates ancient sites in search of priceless artefacts to be sold to the highest bidder. His latest mission in the Middle East goes wrong when he and his partner come under attack, and the ensuing battle awakens an ancient Egyptian princess to our current day who was entombed in a crypt for thousands of years, bringing with her malevolence grown over millennia and terrors that defy comprehension. It is now up to Nick to stop the princess as she goes on a furious rampage through the streets of London.
---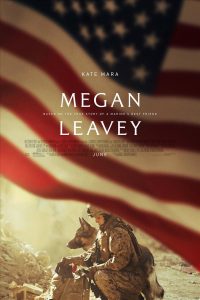 Megan Leavey (June 9)
Starring Kate Mara, Bradley Whitford, Tom Felton, Lonnie Common and Edie Falco
This is the true story of Marine Corporal Megan Leavey, who when assigned to clean up the K-9 unit after a disciplinary hearing, bonds with an aggressive dog named Rex and trains him. The two go on to complete more than 100 missions and save countless of lives when deployed in Iraq, until an IED explosion injures them both, separating the two friends and putting their bond to the test.
---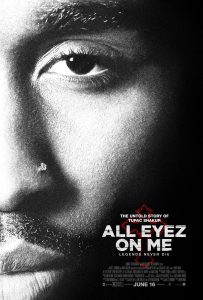 All Eyez On Me (June 16)
Starring Jamal Woolard, Demetrius Shipp Jr, Danai Gurira and Lauren Cohan
This is the true and untold story of Tupac Shakur, from his early days in New York City to becoming one of the world's most influential and prolific rappers to his untimely death at the age of 25. This is the movie about a cultural icon, whose raw talent and revolutionary mind-set has helped shape a legacy that continues to grow long after his death.
---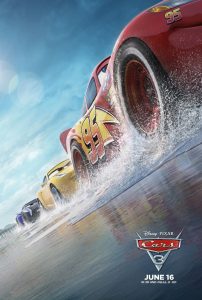 Cars 3 (June 16)
Starring Owen Wilson
Legendary Lightning McQueen is taken out of the sport he loves when he is blindsided by a new generation of fast cars. Hoping to get back into the game, he enlists the help of Cruz Ramirez – an eager young technician with her own plans for winning, and prepares to compete on Piston Cup Racing's biggest stage – and prove that he's still the best race car in the world.
---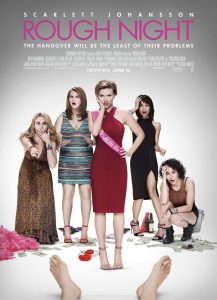 Rough Night (June 16)
Starring Scarlett Johansson, Kate McKinnon, Zoe Kravitz, Demi Moore, Jillian Bell and Ty Burrell
In an all-girl cast led by Scarlett Johansson, this is an edgy comedy about five best friends from college who reunite for a wild bachelorette weekend in Miami. But the partying takes a dark turn when they accidentally kill a male stripper, setting them on a crazy and hilarious path to cover it up.
---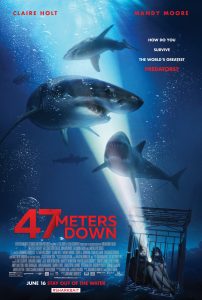 47 Meters Down (June 16)
Starring Mandy Moore, Claire Holt and Matthew Modine
Kate and Lisa are two thrill-seeking siblings who travel to Mexico for an adventure-filled vacation in the sun. Deciding to go diving in shark-infested waters, the sisters come face to face with a group of majestic great whites in the safety of their protective cage. But the thrills turn into horror when the cage breaks away from the boat, sending the siblings plummeting to the ocean floor. Now stuck in the cage with a dwindling supply of oxygen and sharks circling nearby, Kate and Lisa must fight to survive.
---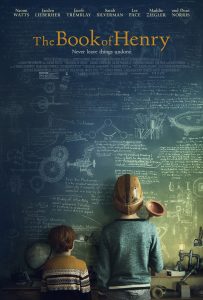 The Book of Henry (June 16)
Starring Naomi Watts, Jaden Lieberher, Lee Pace, Jacob Tremblay, Maddie Ziegler, Sarah Silverman, Dean Norris and Bobby Moynihan
Henry is a child genius who takes care of everything in his family household, including taking care of his younger brother and tirelessly supporting his single mother who works as a waitress. But when Henry learns that the family next door harbours a dark secret, he devises a plan to help their young daughter – with his own mother's help.
---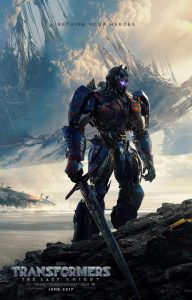 Transformers: The Last Knight (June 23)
Starring Mark Wahlberg, Josh Duhamel, Anthony Hopkins, Laura Haddock and Tyrese Gibson
Director Michael Bay brings the Transformers back to life again in this fifth instalment of the live-action Transformers series. In The Last Knight, humans and transformers are at war, and their wise leader, Optimus Prime, is gone. The key to saving the future is buried in the history of the Transformers' time on Earth, and Cade Yeager (Mark Wahlberg) forms an unlikely alliance with Bumblebee, an English lord and an Oxford professor, to save the world.
---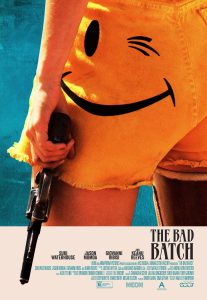 The Bad Batch (June 23)
Starring Suki Waterhouse, Jason Momoa, Giovanni Ribisi, Keanu Reeves and Jim Carrey
A sci-fi film by visionary director Ana Lily Amirpour, this is a love story set in the dystopian future that follows Arlen (Waterhouse) after she is unceremoniously dumped in a desert wasteland away from civilized society, where America sends all its undesirables. Trying to adapt to her new life in this hostile environment, Arlen battles a savage group of cannibals, is entranced by a group of hedonistic drug addicts, and goes in search for a missing girl.
---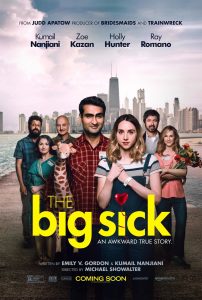 The Big Sick (June 23)
Starring Kumail Nanjiani, Zoe Kazan, Ray Romano and Holly Hunter
A romantic comedy based on the real courtship between Kumail Nanjiani and his wife, writer Emily Gordon. Pakistani stand-up comedian Kumail falls in love with Emily, an American girl, much to his traditional Muslim family's dismay. Their disapproval jeopardizes Kumail and Emily's budding romance, but when Emily is suddenly waylaid by a mysterious illness, Kumail takes charge of the crisis with her parents, Beth and Terry.
---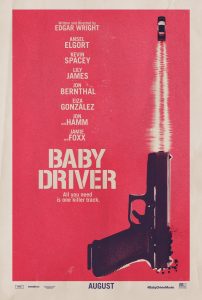 Baby Driver (June 23)
Starring Ansel Elgort, Lily James, Kevin Spacey, Jon Hamm and Jamie Foxx
The latest showing by writer and director Edgar Wright, this is a movie about a highly skilled getaway driver named Baby, whose skills rely on plugging in and listening to the rhythm of a personal soundtrack. A meet-cute with the woman of his dreams gives Baby a reason to ditch the criminal lifestyle and make a clean break for it, but when he is coerced into working with a crime boss (Kevin Spacey) to take part in a doomed heist, his girlfriend, his life and his freedom are threatened.
---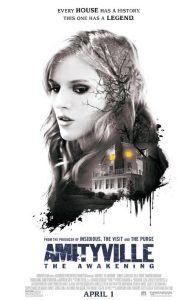 Amityville: The Awakening (June 30)
Starring Bella Thorne, Jennifer Jason Leigh and Cameron Monaghan
A single mother moves into the famously haunted house with her three children, unknowing of the house's murderous history. The miraculous recovery of her previous comatose teenage son leads to a series of horrific events, and the family is forced to fight for their lives.
---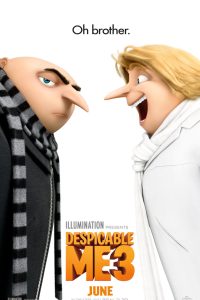 Despicable Me 3 (June 30)
Starring Steve Carell, Kristen Wiig, Miranda Cosgrove, Russell Brand and Trey Parker
Gru (Steve Carell) and his team of minions return for the third instalment of the wildly popular Despicable Me series. This time, Gru and his wife Lucy (Kristen Wiig) work together to stop former 80's child star turned supervillain Balthazar Bratt (Trey Parker) from achieving world domination. This movie will also introduce Gru's long lost and more successful twin brother Dru – who wants to team up with Gru for one last criminal heist.
---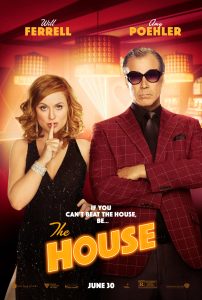 The House (June 30)
Starring Will Ferrell, Amy Poehler and Allison Tolman
After losing their daughter's college fund, Scott and Kate needs to earn some cash so their daughter can go to school. The married couple come up with a harebrained idea to start an underground casino in the basement of their house with the help of their neighbour Frank, but when the casino is a success and money starts rolling, the couple realizes that running a casino isn't as easy as it appears.
---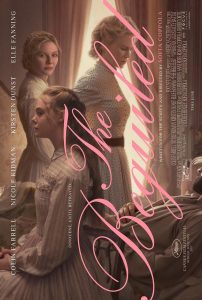 The Beguiled (June 30)
Starring Nicole Kidman, Kirsten Dunst, Elle Fanning, Angourie Rice and Colin Farrell
This latest film by Sofia Coppola brings her back together with actress Kirsten Dunst in this Civil War drama about a wounded soldier who finds refuge at a girls' school in Virginia. As the women tend to his wounds, sexual tensions start dangerous rivalries between the women that lead to an unexpected, and horrific, turn of events.