In Theaters in November
In Theaters in October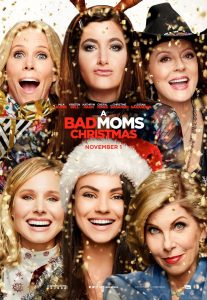 A Bad Moms Christmas (Nov 1)
Starring Mila Kunis, Kristen Bell and Kathryn Hahn
Our three favourite bad moms return to rebel against preconceived notions of motherhood once again in a hilarious sequel that sees them facing up to one of the craziest seasons for mothers everywhere: Christmas. The season to be jolly is nearing and while the three under-appreciated mothers are working hard to create the perfect holiday for their families, they're burdened with yet another challenge: playing host to their own visiting mothers.
---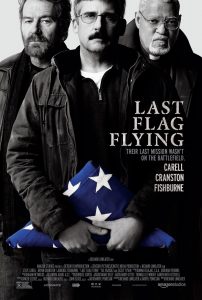 Last Flag Flying (Nov 3)
Starring Steve Carell, Bryan Cranston and Laurence Fishburne
Based on the novel of the same name by Darryl Ponicsan and directed by Richard Linklater, this film tells the tale of a road trip with three Vietnam veterans. Three decades after the Vietnam War, former Navy Corps Richard 'Doc' Shepherd (Steve Carell), Sal Nealon (Bryan Cranston) and Rev. Richard Mueller (Laurence Fishburne) re-unite for a deeply personal mission: to bury Doc's son – a young marine who lost his life in the Iraq War. With his buddies by his side, the threesome take the casket on a road trip up the East Coast to New Hampshire, sharing bittersweet memories of a war that continues to affect their lives.
---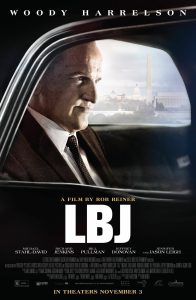 LBJ (Nov 3)
Starring Woody Harrelson, Jennifer Jason Leigh and Bill Pullman
LBJ chronicles the life of the 36th U.S. President,  Lyndon Baines Johnson (Woody Harrelson) before and during his presidency. The film centres on the political upheaval he faced as Vice President when he was forced into the presidency at the assassination of President John F. Kennedy (Jeffrey Donovan), and his works in turning the fate of the nation through the passing of his predecessor's momentous Civil Rights Act.
---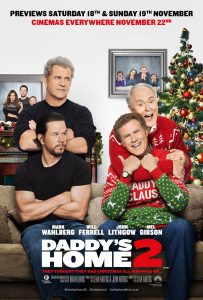 Daddy's Home 2 (Nov 10)
Starring Will Ferrell, Mark Wahlberg, John Lithgow and Mel Gibson
Christmas is nearing; Brad (Will Ferrell) and Dusty (Mark Wahlberg) are on a mission to create the perfect holiday for the children. Their plan and partnership is put to the test when their polar opposite fathers come to visit, turning the holiday upside down.
---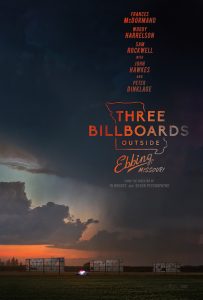 Three Billboards Outside Ebbing, Missouri (Nov 10)
Starring Frances McDormand, Woody Harrelson and Sam Rockwell
A dark comedy by Oscar winning director Martin McDonagh. Months have passed, and there's still no news on who was responsible for the murder of the daughter of Mildred Hayes (Frances McDormand). Frustrated, Mildred decides to make a bold move by painting three billboard signs leading into her town with a message to challenge the town's chief of police, William Willoughby (Woody Harrelson), to catch the culprit. But when his second-in-command, Officer Dixon (Sam Rockwell), gets involved – things only get worse.
---
Murder on the Orient Express (Nov 10)
Starring Kenneth Branagh, Johnny Depp, Michelle Pfeiffer, Penélope Cruz, Willem Dafoe, Judi Dench, Josh Gad and Daisy Ridley
A movie adaptation of the famous novel of the same name by best-selling author Agatha Christie, a lavish train journey across Europe turns into a mystery of murder and suspense when a murder occurs aboard the train, and among the thirteen passengers on board, everyone's a suspect. Detective Hercule Poirot (Kenneth Branagh) arrives to uncover the culprit in a race against time before the killer can strike again.
---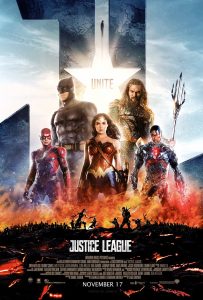 Justice League (Nov 17)
Starring Ben Affleck, Gal Gadot, Ezra Miller, Jason Momoa, Ray Fisher and Ciarán Hinds
A few months after Superman's selfless act to save humanity, an inspired Bruce Wayne (Ben Affleck) turns to Diana Prince (Gal Gadot) to gather a team of metahumans to face an even greater threat. Batman, Wonder Woman, Aquaman (Jason Momoa), Cyborg (Ray Fisher) and The Flash (Ezra Miller) team up to put an absolute end to the cataclysmic threat of Steppenwolf (Ciaran Hinds) and his troop of Parademons.
---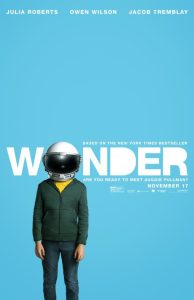 Wonder (Nov 17)
Starring Julia Roberts, Owen Wilson and Jacob Tremblay
Based on the New York Times bestseller, this is the inspiring tale of August 'Auggie' Pullman (Jacob Tremblay) – a boy with facial features different from others. When he enters fifth grade at a public elementary school for the first time and people around him struggle to accept him, Auggie takes us on an extraordinary journey, urging those around him to look past his physical traits, eventually uniting the community with the notion that when you're born to stand out, why try to blend in?
---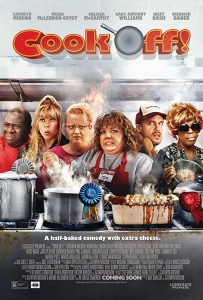 Cook-Off! (Nov 17)
Starring Louie Anderson, Nick Rey Angelus and Diedrich Bader
Watch as a group of amateur 'chefs' from around the country fight it off at the renowned Van Rookle Farms Cooking Contest to take home the prize of one million dollars. Cook-Off! is set as a mockumentary where the filmmakers follow these contestants around like a reality TV show, recording everything they can for a hot and heavy scoop of drama.
---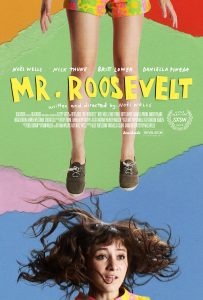 Mr. Roosevelt (Nov 17)
Starring Noël Wells, Nick Thune and Britt Lower
Struggling comedian Emily Martin (Noël Wells) made a big decision when she left her boyfriend Eric (Nick Thune) to move to Los Angeles, the land of possibilities, in the hopes of making a name for herself. But tragedy strikes when a loved one falls ill, forcing her return back to Austin, Texas, only to find herself stuck with her ex-boyfriend and his new – and improved – girlfriend, Celeste (Britt Lower).
---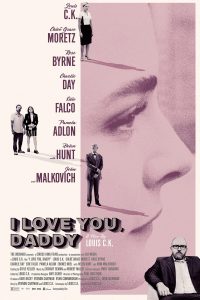 I Love You, Daddy (Nov 17)
Starring Louis C.K., Chloë Grace Moretz, Pamela Adlon and John Malkovich
Renowned stand-up comedian, writer and producer Louis C.K. directs this movie which stars himself as notable TV writer slash producer Glen Topher, who just found out that his teenage daughter (Chloë Grace Moretz) has become the target of interest of 68-year old filmmaker Leslie Goodwin (John Malkovich) – a man with an appalling history with underage girls, forcing him to worry about handling the situation and start doing some serious parenting.
---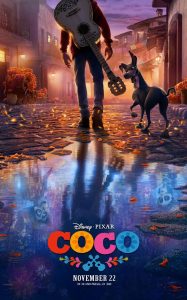 Coco (Nov 22)
Voiced by Anthony Gonzalez, Benjamin Bratt and Gael García Bernal
Miguel's (Anthony Gonzalez) dreams of becoming a musician has one big hiccup: his family's generations-old ban on music. Following a mysterious chain of events in his quest to prove his talent, Miguel finds himself in the colourful Land of the Dead where he meets a trickster named Hector (Gael García Bernal). The duo, and his dog Dante, set off on a journey to seek answers behind Miguel's family history.
---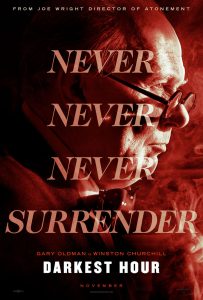 Darkest Hour (Nov 22)
Starring Gary Oldman, Lily James and Ben Mendelsohn
The inspiring true story of Winston Churchill that begins at the start of World War II – within days of his appointment as the Prime Minister of Great Britain, Winston Churchill (Gary Oldman) is overseeing the overwhelming threat of invasion by the Nazis. He is forced to negotiate a peace treaty with the German troops, or rally an unprepared country to stand for the ideals, liberty and freedom for their nation, and in this darkest hour, change the course of world history.
---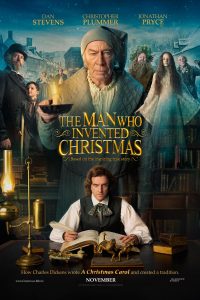 The Man Who Invented Christmas (Nov 22)
Starring Dan Stevens, Christopher Plummer and Jonathan Pryce
This tells the tale of the magical journey of author Charles Dickens (Dan Stevens), who just had his book rejected by his publishers. With his vivid imagination and gathering inspiration from his real life, he sets out to create his timeless classic 'A Christmas Carol', bringing beloved characters including Ebenezer Scrooge, Tiny Tim and Martha Cratchit to life, and forever changing the holiday to the joyous celebration that we know today.