Ramadan Treats at The Empire Hotel & Country Club
Ramadan Treats at The Empire Hotel & Country Club
Every holy month of Ramadan it comes as no surprise to find The Empire Hotel & Country Club attracting big crowds for their sungkai buffet promotions. With seven in-house food and beverage outlets, from the elegant Pantai Restaurant that affords breathtaking views to the opulent surroundings at the Atrium Café, The Empire Hotel is a gastronomical favourite with locals and visitors alike.
The Citarasa Ramadan Iftar Buffet at the Atrium Café is keeping it local this festive season with an array of traditional Ramadan favourites at the buffet spread and live action stations, offering a plethora of mouth-watering choices for diners to break their fast with.
The Appetizer table is already a sight to behold, offering up choices like Tauhu Sumbat (tofu stuffed with vegetables), Kerabu Mangga Muda (green mango salad), a variety of sambal, a glorious display of various types of ikan masin (salted fish), and a rojak station wwhere you can fashion your own messy and delicious bowl of rojak out of condiments like their home-made spicy peanut sauce, fritters, bean sprouts and cuttlefish.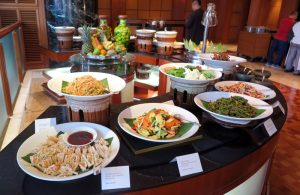 Local favourites like Tauhu Sumbat and Kerabu featured at the Appetizer section, along with a Rojak station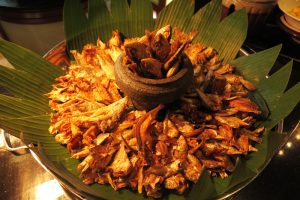 A display of various salted fish
The main buffet features a spread that guarantees you'll be back for more. There is a diverse selection of Asian favourites like Roti Jala, Tomato Rice, Mapo Tofu, Gulai Sayur Labu (braised pumpkin) and Egg Masala to appeal to anyone's tastes, and if you're not convinced, then stop at the Nasi Ayam (Chicken Rice) station where the sight and smell of steaming roasted chicken is enough to bring a person to tears. In taste, it is just as good – the chicken pieces are tender and complement the scented rice perfectly.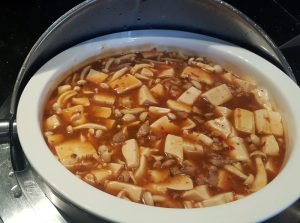 Mapo Tauhu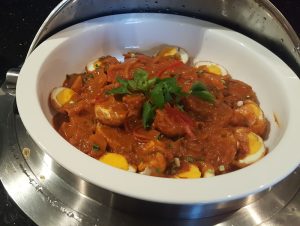 Egg Masala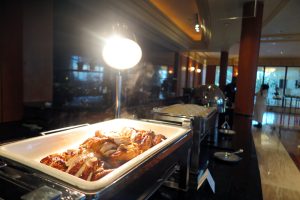 Nasi Ayam is served with a selection of condiments
And if that doesn't tickle your fancy, there's a Fish Ball Noodle Soup live station, a Chinese Porridge station and an Ambuyat station, serving up freshly made ambuyat with an array of condiments.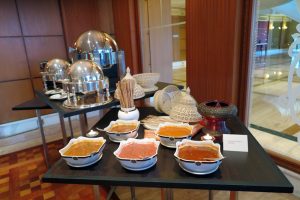 The Ambuyat station has a selection of spicy dips to choose from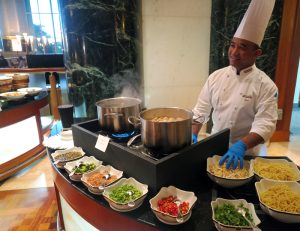 Fish Ball Noodle Soup is served fresh with condiments
When it comes to dessert, The Empire Hotel never fails to impress, and they've come up a beautiful display of both local and international sweet treats to end an already fantastic meal. There is assorted Malay kuih, chocolate tarts, Mixed Fruit Shortcake and of course, their famous Kek Batik. Beyond the baked goods there is home-made cendol, Bubur Pulut Hitam (Black Glutinous Rice Porridge), and an ABC (Ais Batu Kacang) station where you can make your bowl of shaved iced desserts from an array of condiments.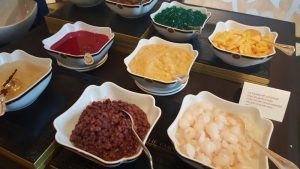 The ABC station has an array of condiments to choose from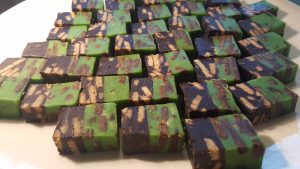 Munching on The Empire Hotel's famed "kek batik" is a must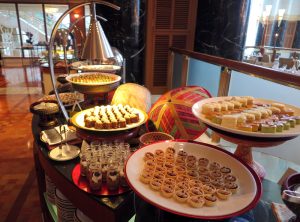 Mouth-watering choices at the dessert table
But if you're looking at a little more cash to spend on your sungkai meal, then head on downstairs and feast your eyes on the Citarasa Ramadan Buffet at the stylish Pantai Restaurant, offering up a gloriously diverse spread of  both local and international cuisine with a view.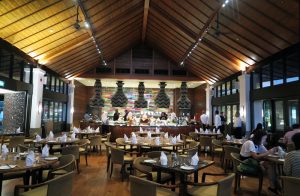 The elegantly designed Pantai Restaurant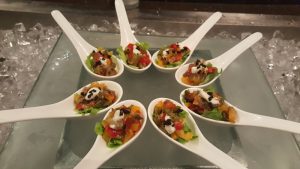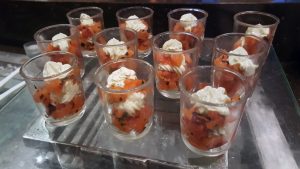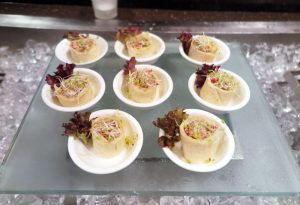 There is also a live grill station where an array of meats is ready to be grilled to perfection!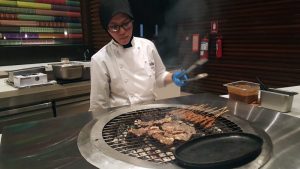 You also have a choice of fresh seafood from mussels to crabs, along with assorted maki rolls. Standing out from the scrumptious options at the buffet is a magnificent Nasi Talam Daging (Meat and Rice Platter) and Bone Noodle Soup section with an array of condiments to garnish your meal.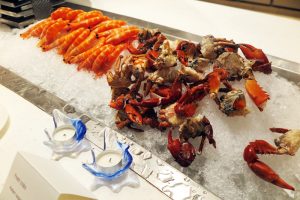 Fresh seafood served cold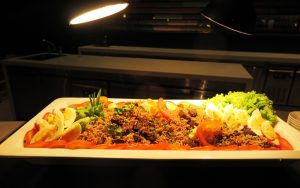 Nasi Talam Daging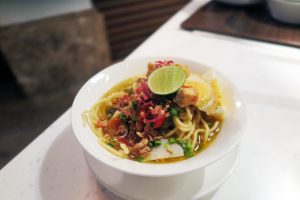 A  bowl of Bone Noodle Soup
And of course, who can forget dessert?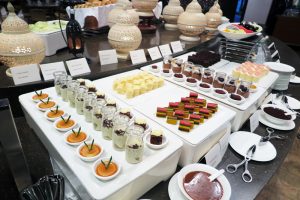 Whether you choose to dine at Pantai Restaurant or the Atrium Café, you're only a few steps away from one of the most spectacular sunset views in Brunei – so take a few pictures before digging in!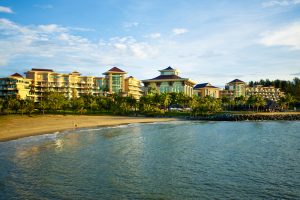 Sunset views at The Empire Hotel
The Citarasa Ramadan Buffet at the Atrium Café is priced at BND25 per adult (BND12.50 per child aged 6-11 years) from 6pm-8.30pm daily. Prices are discounted to BND22.50 per adult for table bookings of 10 people and more. Prices are subject to 10% service charge.
Pay with your Baiduri Credit, Debit or Prepaid Card when dining at the Atrium Café for Sungkai and get a complimentary selection of homemade cakes! Limited to the first 100 customers only.
The Citarasa Ramadan Buffet at Pantai Restaurant is priced at BND48 per adult (BND24 per child aged 6-11 years) from 6pm-9.30pm daily. Prices are discounted to BND22.50 per adult for table bookings of 10 people and more. Prices are subject to 10% service charge.
The menus at the Citarasa Ramadan Buffets are rotated so we recommend calling ahead to make sure what's being served! Call 673-2418888 for reservations or you can visit their website for more information, or follow them on Facebook and Instagram for updates.