The Coffee Bean & Tea Leaf® Brunei Celebrates Milestone Event with the Introduction of the Coffee Bean Membership Card
The Coffee Bean & Tea Leaf® Brunei Celebrates Milestone Event with the Introduction of the Coffee Bean Membership Card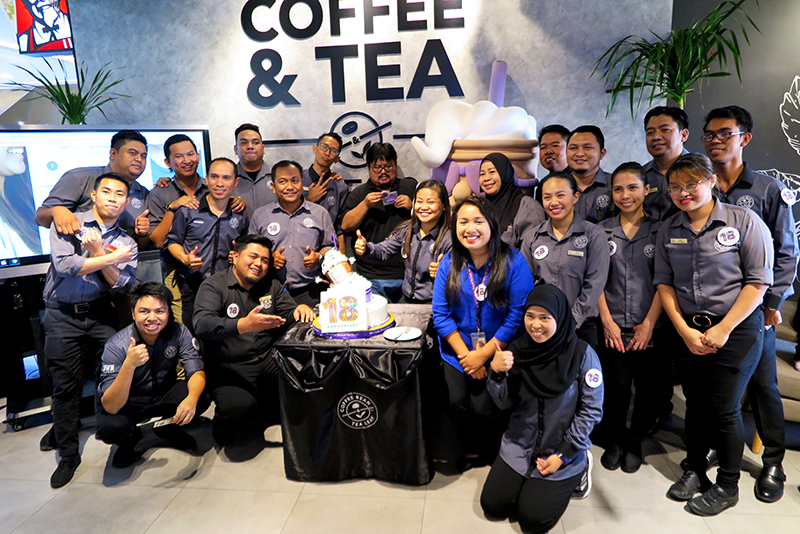 The celebration of The Coffee Bean & Tea Leaf® Brunei's 18th Anniversary last Friday was spent with great company, great food, great beverages, a great Coffee Bean cake and the registration of several applicants of the newly launched Coffee Bean Membership Card.
But first, the General Manager of PAR Food & Beverages Sdn Bhd, Art Terrado, addressed the large crowd with welcoming remarks.
"From just one café at the heart of Gadong, we have continued to improve and evolve, opening up more branches which includes gourmet focus outlets, three in-house cafes, a food truck, as well as an ever growing workforce of more than 300 staff, 80% of which are locals," Art Terrado shared with the guests.
The event took place at one of the beloved franchise's gourmet focus outlet and the latest branch to grace the ever-growing list of the American coffee franchise's branches in Brunei. Beautifully designed with marble flooring, cosy but elegant furnishings, warmly lit interior and an outdoor patio, the OneCity Shopping Centre CBTL outlet has seen many customers partaking in their gourmet menu and, of course, their famous coffee and tea beverages.
The American coffee franchise has many reasons to celebrate its 18th year anniversary, with over 14 branches spread across the Sultanate since it first opened its doors to the public back in 2001.
But for regular and new customers of CBTL Brunei, there was another reason to celebrate this milestone event.
During his welcome speech, Art Terrado announced the introduction of the all new Coffee Bean Membership Card.
"The Card is our way to show our appreciation to our customers for their support throughout the years, providing them convenience of cashless payment but also receiving awards in the form of exclusive discounts, invitation to exclusive events and tasting events," the General Manager said. The launch of the Coffee Bean Membership Card also marks the new partnership between PAR Food & Beverage Sdn Bhd and Mobility One with the introduction of an e-wallet called 'E-Usin'.
Present at the event was guest of honour Yang Amat Mulia Pengiran Abdul Munim Pengiran Anak Tahiruddin, the Managing Director of The Coffee Bean and Tea Leaf®, who commemorated the event with cake-cutting. He also received the honour of being the first to have a Coffee Bean Membership Card, which was given to him by Hj Zaim DP Hj Sabtu, Director of Mobility One.
Register for the Coffee Bean Membership Card at rewardme.coffeebeanbrunei.com to start getting exclusive discounts and invitations to tasting events and more!
The Coffee Bean & Tea Leaf® Brunei continues celebrating its 18th Anniversary with Promotions that will go on during the month of August! These include discounts off Ice-Blended beverages on the 16, 23 and 30 August and a 'Get Together $18 Pizza & Pasta Promotion' at their gourment outlets in Times Square, Supa Save Mata-Mata, Supa Save Seria and OneCity from 10 August to 9 September 2019.
Keep yourself updated with more promotions by following them on Instagram and Facebook.